The 27th-28th April was the pre-release weekend for the new Magic the Gathering set: Dragon's Maze. I attended Gatecrash which was my first proper tournament, but was really looking forward to playing.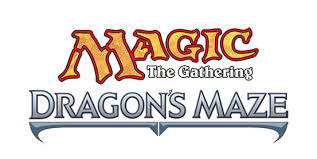 Back in the 90s at college we were given promotional stuff of Portal, and I later picked up a starter of that and Portal 2nd edition. But that was the furthest I had ever looked at Magic. I then picked up Duel of the Planeswalkers 2012 and fell in love with the vampire deck. Then 2013 came out and just as I was completing it Major Arcana was opening in Dundee. I dug out the old stuff I had and then picked up an intro box and have been playing for about 5 months.
I really liked silly tribal stuff so had a Vampire multiplayer deck which I gradually improved for duels, although it was never as good as those crazy £300+ decks. Who cares about that, it was brilliant fun. Getting 238 +1/+1 counters on a Vampire Nighthawk in multiplayer provoked a massive grin. I then made more silly tribal decks and, before Gatecrash a terrible mill deck. Another deviation was a mono green ramp deck. Mainly though I was sticking to Black/Red. For Gatecrash I went Dimir and did terrible, then under the excellent advisement of others ripped it apart and went Gruul having great fun. Day 2 I went Gruul too and did a bit better.
So, I had went Black and Red a lot, Green a little and Blue/White barely.
Saturday with Major Arcana: Two Headed Giant
For this pre-release I wanted to go something a bit different. Day 1 was 2 headed giant at Major Arcana, 2 vs 2. My teammate chose Gruul (Green, Red) and I chose Selesnya (Green/White). Opening my packs I quickly decided to go White/Red/Blue. I got Aurelia, 2 Render Silent and a ton of other good white/blue stuff.