Alan G gives a quick run-down of some of tomorrows smash-hit games.
This weekend saw the latest showcase of Dare to be Digital the student games development competition started at Abertay in Dundee. There was also an indie games developer conference and indie games company showcase.
(It's also about the 13th since my course-mates and I applied to do Dare in the summer between 3rd and 4th year and were rejected.)
Protoplay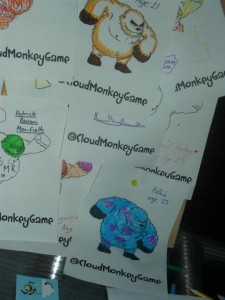 I had arranged to meet some friends first thing as it gets very very busy later in the day, so at 10am I was queued outside with the rest of the nerds to play some new innovative computer games.
There were 15 teams competing and you are supposed to play each before voting for your favourite. Unfortunately I didn't have time to play them all before heading off to a barbecue but at least watched someone play each to get a general idea.
So a quick run down on the games.
Games I played
1. Slick. Probably by third favourite game. An interesting platformer where you play a snail racing through levels. Three were included in the game and more actions were added each one. I did find parts frustrating as you had to dump slime before you explode. Unfortunately in some cases you ditched it, going faster which made you jump over one jump, the landing bit and into the next pit. A bit of tweaking to allow you to do such mega jumps would have helped move it up for me.
3. Mr Montgomery's Debonair Facial Hair. Enjoyable and original. You have to groom customers in a barbers shop and kill bees and sharks which attack them. I really enjoyed this and thought this was second best and later found out the artist is a friends daughter.
9. Pixel Story. This was the first game I played and I really enjoyed it. Later went back to play to completion to confirm it was the game I wanted to vote for. Really innovative 8-bit pixel styled platformer. It later won a bunch of awards and funding to help it be made. Drop your hat, turn switches to move obstacles and teleport to hat. Teleport to hat after jumping on spring to carry momentum over walls etc. Really really fun. My final comment as I finished was How can I give you money for this?
10. Ready Steady Roll. Android tablet game where you race catching debris to make the ball you are rolling on bigger, and faster, whilst avoiding obstacles. This was quite fun.
12. Project Thanatos. The only game which was 16+. Virtual Reality headset in a horror game. I played the monitor/headphone version rather than queue longer. Jumped a couple of times. Another wee bit of graphical polish and it would stand on it's own against commercial titles.
13. Grav Tech. Fun platformer where you use a gravity gun to make giant blocks heavy or light to move them and move through the level.
Didn't play
2. Liminal Magibrawl. Using the Kinect to fight. It looked quite fun and saw loads of kids loving it and then voting for it.
4. Castle Crusade. This looked like a graphics-enhanced version of Rampart on the Master System. Some kids were playing it as I stood at Debonair Facial Hair but it didn't interest me enough to play.
5. Interstate Outlaws. Racing game using Kinect. Stood watching people play and giggled saying Fork in the road when a giant fork appeared. One of the developers was amused and liked it when people spot the visual puns.
6. Colour Captain. I didn't play this due to it's reliance on subtle colours (Colour Blind) but the friends I was with loved it and voted for it.
7. Starcrossed. I can't even remember seeing this. Sorry.
8. What a Day!. A friend played this for a while and seemed to enjoy it. Play a worm leading fish to a hook on the iPad.
10. Badgers vs. Turtles. Don't remember this – either it wasn't memorable or it was too crowded to get near.
14. IsoChronous. This had a bit of buzz from the other teams but few demo machines and people hogging it for long periods meant I didn't get to try it.
15. Marcelo. Don't remember this either. I suck.
I hadn't looked for a while at it but managed to play around with Scratch for a few minutes to make a basic game. Made me want a Raspberry Pi even more than I already do.
Dare Indie Fest
Proper Games. Just as I was leaving the area I spotted Proper Games stuffed in the corner. As I mentioned that I hadn't seen their CEO for a while he turned round and I ended up blethering to him for a while. I bought Yo Deshi on iPhone after demoing it. Signed up for their beta test list and was reminded to play Flock! again after encouraging someone to play it. (Disclosure: I used to go to lunch with the CEO once a week as a colleague was a friend of his)
WallaBee. The guys who make the HoneyBlend app to accompany WallaBee convinced me to become addicted to this whilst demoing it to someone else. I was at the time downloading the app. If you have OCD or are a completest – avoid this game.
BrainDeadApe. Had Highway Hobo on show – a game where you play a hobo wandering down the middle of the road getting drunk and burping at oncoming cars.
TigerFaceGames. Had Equator which was a 2-player co-operative maths game aimed at kids for the iPad. Mo'Adore and I sat playing it for ages. It was quite fun, unfortunately they had made a new build the night before and I discovered a bug which kept crashing the level.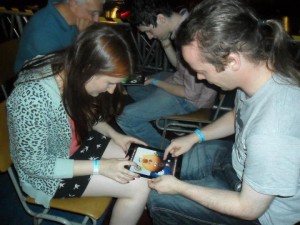 Final Thoughts
There was a really good mix of games shown in both halls. Some of the ones in Protoplay were probably better than those produced by existing companies in the Indie Showcase. A really positive sign on the future of indie games development.