I have managed to win my first ever draft, having always got mana/colour screwed any time I managed to pull together a decent deck. Here's what I managed with other people in my colours too.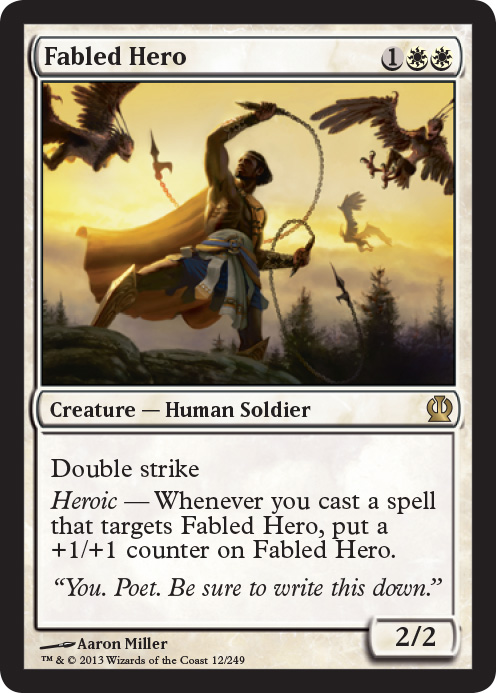 Spark Jolt
Chained to the Rocks
Messenger's Speed
Lightning Strike
Setessan Battle Priest
Bronze Sable
Cavalry Pegasus
Chosen by Heliod
Akroan Hoplite
Observant Heliod * 2
Wingsteed Rider * 2
Two Headed Cerberus
Spear of Heliod
Gift of Immortality
Fabled Hero
Anax and Cymede
Divine Verdict
Portent of Betrayal
Heliod's Emmisary
Hundred-Handed One
Bordeland Minotaur
Silent Artisan
Last Breath * 2
Satyr Rambler
Prowler's Helm * 2
Anvilwrought Raptor
Traveler's Amulet
Scholar of Athreos
Opaline Unicorn * 2
Burnished Hart
Traveling Philosopher (had in game 1, swapped out for Portent of Betrayal)
Round One vs Simon
Simon is a really good player who bested me in the two headed giant tournament we played at last time. He had what he described as an insane Blue White deck.
I start and drop a land. He drops the 1/1 lifelinker. I drop a land, he equips an ordeal and swings for 2 going to 22 life. I have a spear in hand so play that. He puts on a second ordeal, swings to make it a 4/4, gaining 20 life going to 46 life, with me on 14. Not a good start for an aggro deck. He's locked because of the spear now though. I gradually manage to drop Fabled Hero, Pegasus and Two-Headed Cerberus and the Setessan Battle Priest. I'm swinging for 12 a turn and win whilst on 6 life. Tense and a bit crazy. For game two I swap out the vanilla 2/2 and put in a Portent of Betrayal.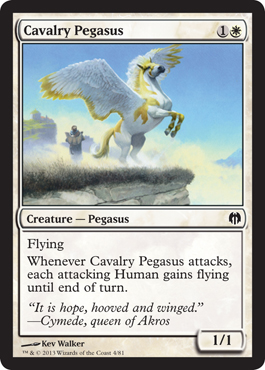 Game two I fight through 3 vaporkins? (he has 5!). Eventually besting him to win 2-0.
Round Two vs Kian
I'm up against a blue/black deck with Ashiok. Game one he drops and Ashiok but I managed to kill after 2 activations. I then turn attention on the player and after equipping on Fabled Hero and swinging in with a Pegasus it is hilarious.
Game two he manages to drop Ashiok and some deathtouch dudes, eventually I kill Ashiok with 6 cards in hand, no flyers and him having two deathtouch defenders.
Game three is a bit more even, but I eventually manage to Chain a deathtoucher to rocks, and tap down another to win 2-1.
Round Three vs Dan Birthday Boy Rayner
It's the final and I'm up against the store owner and it's his birthday. He's playing a Green/White deck and that explains why I was being cut from the right on packs 1 and 3. I still got passed 5 of the 6 rares in my maindeck though, Fabled Hero and Hundred Handed were definitely from the left though.
Game One I drop a couple of dudes. He drops the Green 2/2 who gets a counter when you target. He equips with two ordeals and swings through for 12. I had taken him down to about 14 at the time. It's turn 4 and he's tapped out with an 8/8 on the table and I have about 5 power. Time for a Portent of Betrayal then!
Game Two is a bit of a grind but he eventually manages to get me down to one life and he has three creatures on board.
Game Three and it's all to play for. Spear does it for me again, to kill blockers. I have Anax and Hoplite out, flying with Pegasus. I have 10 power on board and he has 12 life. I get the land I need and equip Anax with +2/+2 so it's game for my first ever draft victory.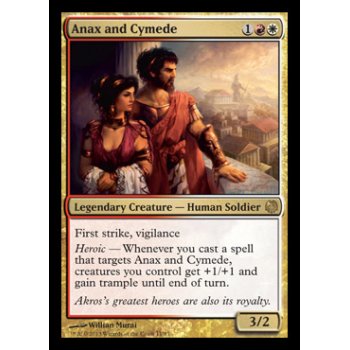 Spoils
Totally worth a quick Saturday afternoon. After doing terrible with my silly standard deck recently I then went 3-1 on Thursday with my Modern Goblins.
Thassa, God of the Sea
Temple of Mystery
Bident of Thassa
Pyxis of Pandemonium
Sin Collector (promo)
Tags: Magic: the Gathering, MtG, Theros