I've previously written about Heroquest so you should know how much I love this game, responsible as it is for getting me more into nerdy hobbies.
A wee while back, a petition started for a 25th anniversary edition. I obviously signed it, not holding out much hope.
Discussion has taken place many a time of what to do if you won the lottery, my number one item, every time, was to employ lawyers to navigate through Hasbro, Games Workshop and whoever else was needed to secure the rights to HeroQuest to do a re-release of it.
Well, there was rumbling of a re-release and then a Spanish site appeared promoting a 25th edition. This was due to appear on Kickstarter. Surely not!
They claimed to have the licence and someone dug up stuff showing they owned the trademark to HeroQuest in Spain. They intended to host in Kickstarter but be based in Spain, selling in Spain in multiple languages.
The cover and some prototype images were released.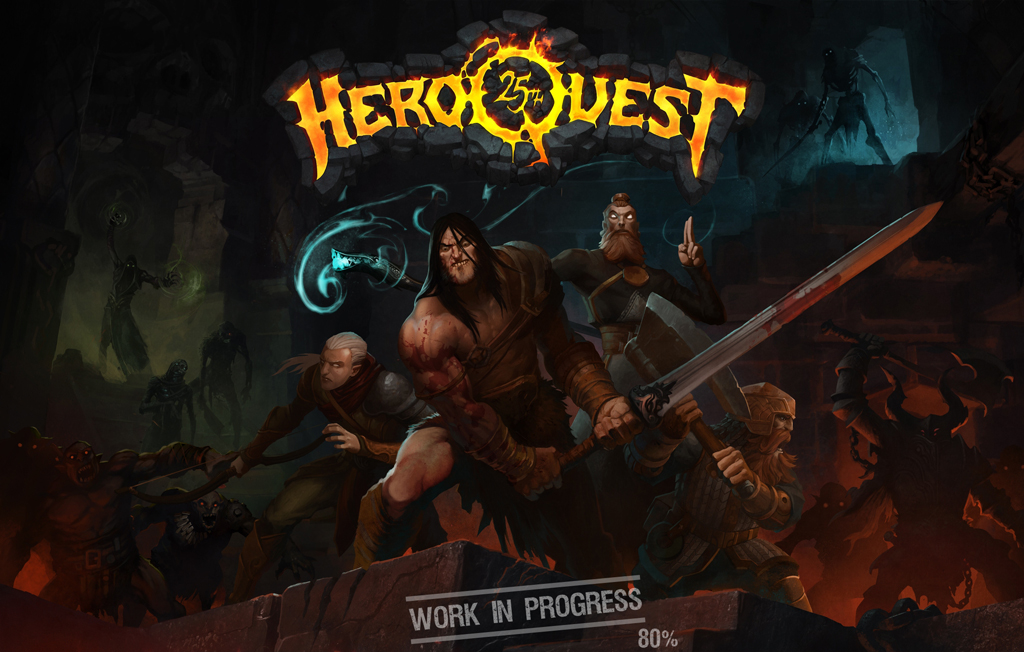 Immediately the fanbase was torn. Surely this can't be, Hasbro has licenced someone and/or lost the trademark? A date was promised for the project to appear which was then missed.
Kickstarter
The project starts and within a few hours breaches it's target with the base game and all extras running to around £93.87, when converted from Canadian dollars. Although steep, it was no great amount considering what people pay for some of the expansions.
Slowly, too slowly in fact, stretch goals started to be revealed. These were for the most part underwhelming. A single figure for €33K. Normally showing what the next reward is at the next level, which has already been reached. The video starts off with the original advert, again implying this was properly licenced. The fanbase started asking awkward questions such as
How much is postage, it doesn't say?
Are you really licenced?
Do you have any sculpts?
Can we see some real work you have done on this instead of just a mocked up box cover?
The project was sitting at $300,000 and we were awaiting the first update from the project owner, which was more than a little unprofessional. Leeway was given for the poor English due to translations, but that made people a bit nervous about any future product.
Eventually updates appeared and some questions were answered. To find out postage sign up to their company site and then enter your details to find out. The postage calculator subsequently broke and was being worked on. When fans were outraged at the cost being charged and ambiguity over that being the final amount GameZone said they would give a voucher for their store for the amount you spent on postage.
Within a couple of days the project was unavailable due to an intellectual property dispute.
It was shortly announced that it would be appearing on a Spanish only Kickstarter site to avoid these issues. It did, then was dropped 5 hours later for, presumebly the same issue.
Ownership
The roots of all these problems lie in intellectual property.
But it wasn't Hasbro or Games Workshop who sent in the scary lawyers, but by Moon Design (who they?). Well it appears they have the trademark to HeroQuest in the US, and so spotting US citizens pledging felt it infringed their rights. Secondly they intend to produce a board game of their HeroQuest roleplaying game and wanting to get a large chunk of cash from GameZone to continue.
Does that also mean that had Hasbro and Games Workshop decided to release a new HeroQuest they would try and block it? A bit rich considering the board game was out first. I was already annoyed with their RPG stuff for clogging eBay searches for HeroQuest but this just makes them bigger asses.
GameZone have tied themselves in knots, claiming they aren't selling in the US whilst seeking US funders, seemingly not giving Stephen Baker credit for the game they are re-releasing, cocking up two crowd funding project, not being capable of telling people the postage cost etc.
It's all looking a bit shit for HeroQuest fans just now. At least there's continued work by fans on Hero Quest Revised as well as Descent and Mice and Mystics to play.
Tags: Hero Quest, HeroQuest, Kickstarter