Wizards in their infinite wisdom decided to change the Pro Tour Qualifier system, now instead of winning a tournament there were a few of a year in Scotland to get to the Pro tour you need to:
Win a tournament there are about 10 per quarter of then
Top 4/8 (size dependent) a tournament that this competition feeds into.
At the first Scottish one ever, in Glasgow, I threw away the chance to Top 8 and it was won by Ferg.
There then followed events in Edinburgh, Glasgow (different shop), Largs and Dundee.
On 31st of January it was the turn of Stirling to host.
I joined the road trip crew of 5 from Dundee and 2 from Aberdeen to make it through. We were stuck in traffic for a bit due to Aberdeen fans making their way through to Hampden to get pumped by Dundee United due to having to cross the city to pick up cards.
We arrived at Stirling and for most of us it was our first visit to Common Ground Games. We were pretty blown away, a large retail space, with kitchen area making teas/toasties etc, massive gaming area with huge wargaming tables plus tables for about 50-60 players.
After the latest set release I knew my Super Aggro Red was in a bad place so I switched to big red devotion. I looked at a few lists online, and annoyingly can't remember where the one I closely copied from originated from. Apologies and thanks to the mystery brewer.
Round 1 vs Steven Youngson (Green Blue)
I sat down at probably the lowest table to play my first round opponent. This was his first ever competitive tournament and hadn't been playing for too long. This meant I could be facing someone who net-decked or brewed so couldn't really play around a known deck strategy.
Game 1 he plays a couple of morphed [c]Sagu Mauler[/c]s and I burn them whilst beating down with flyers and [c]Goblin Rabblemaster[/c] tokens.
Game 2 I bring he goes on the play and I get down to about 14 but his 2/2 and 1/1 creatures can't race mine and I think I played and [c]Eidolon of the Great Revel[/c] early causing most of that.
His deck seemed ok but he had jammed in a Planeswalker cos he had it etc, definitely a home brew.
Round 2 vs Phil Dalbeck (Blue White Heroic) 1-0 (2-0)
I was worried about this match up as [c]Crater's Claws[/c] can't remove lots of his threats and he can give protection to those I can whilst I only had sorcery speed removal.
I win game 1 with some Goblin tokens, flyers and a [c]Purphoros, God of the Forge[/c].
Game 2 I lose with my opponent on 25 life, I think I was flooding out and he put an [c]Aqueous Form[/c] on a dude making him unblockable.
Game 3 got to a point where I was at 3 life, dreading one of his two creatures becoming unblockable.
The turning point was him being on 8. I have a [c]Stormbreath Dragon[/c] and a morphed [c]Ashcloud Phoenix[/c] with 6 mana open. He has two creatures. He, declares attackers, then gives one of them protection from red, saying out loud that means his other creature would kill a blocking dragon.
I block the pro-red creature with my morph and the other creature with the dragon. I then unmorph the phoenix dealing him 2. After damage my phoenix dies, coming back as a 2/2 morph. My Dragon survives – to his surprise. On my turn I pay 1 to return a phoenix from the bin and hit him for 10.
Round 3 vs Scott Gibson (Junk, sorry Abzan) 2-0 (4-1)
Game 1 he drops two [c]Siege Rhino[/c]s, the first of whom I had to [c]Chained to the Rocks[/c] to make sure my tokens could get through, whilst being very worried. I win this with dragons.
Game 2 he wrecks me with Rhinos.
Game 3 I got my [c]Glare of Heresy[/c]s in and manage to deal with his board not taking a point of damage.
Round 4 vs Peter Deane (Blue Black Control) 3-0 (6-2)
Although my deck is the favourite against most control decks I was worried to be facing a player I knew of as a regular in top 8s and the like.
Game 1 I win the dice roll and manage to resolve a Purphorous, he is trying to find an answer whilst Goblin Rabblemaster and Purphoros do the work.
Game 2 I think went down to tokens again, didn't make enough notes on pad 🙁
Round 5 vs Ross Jenkins 4-0 (8-2)
We were the only players on 4-0 – there were lots of draws due to the high number of control decks. Intentional Draw locks us both in the top 8.
Round 6 vs Andrew Rayner 4-0-1 (8-2-3)
Another ID and we watch for Gary Campbell vs Stuart to see which one of our travel group wouldn't make it. Gary eventually won.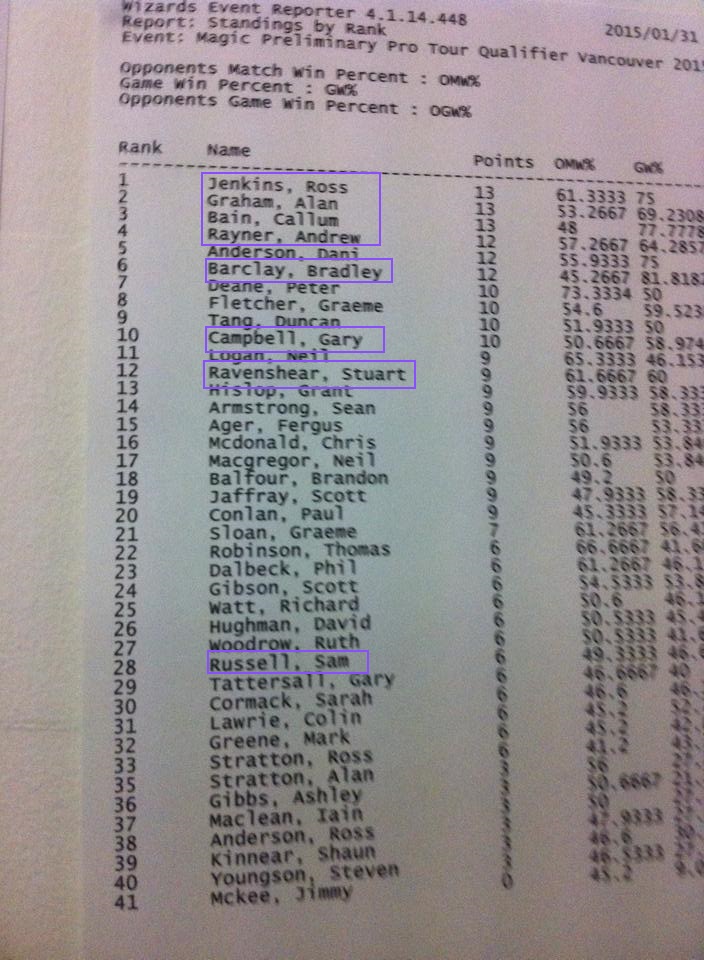 Looking at the placings going into round 6 shows how well our group had done. Brad added as a former Highlander Games player.
In the end 5 of our 7 from the North East made top 8 with Brad making it too.
Quarter Final vs Duncan Tang (BUG Control) 4-0-2 (8-2-6)
I was drawn against Duncan from Glasgow, based on our decks I expected to do well but he is a very good player, regularly top8s and quite often plays the deck style he had chosen.
In the end I finish game 1 on 20 life, his removal/counters couldn't keep up with my threats.
Game 2 I bring in Erase, expecting to see [c]Courser of Kruphix[/c] as I didn't know the deck list and he barely played anything in game 1. I scooped when he had two Garruk wolves and a deathdealer whilst I was on 7 with a 2/2. Even if I block the deathdealer I go to 1 and he then has 4 creatures whilst he is on 19.
Game 3 I come out racing and dash out a [c]Mardu Scout[/c], play a Goblin Rabblemaster and then dash two scouts. He's on 2 going into his turn 4 – one turn early for the wrath which could save him.
I shake the hand and say I'll see him in Dunfermline (the next PPTQ) laughing that I won't progress.
Semi Final vs Bradley Barclay (Black Blue Control) 5-0-2 (10-3-6)
The other semi is Andrew vs Ross so one of the group is making it. I'm facing one of the best constructed magic players in the UK so am not expecting it to be me.
Game 1 is some dashed [c]Mardu Scout[/c] and [c]Goblin Rabblemaster[/c] fun times.
Game 2 I hold up a [c]Crater's Claws[/c] in hand and gradually bait out his removal/counter spells for him to be tapped out to be able to cast it for exact damage.
Somehow I win 2-0 not dropping a point of life.
Final vs Ross Jenkins (Black Blue Control) 6-0-2 (12-3-6)
My first ever tournament top 8 at a higher than GPT level and I make the final. I'm pretty stoked but not expecting to win. Ross had only dropped one game all day so was at 12-1-6 showing how well he was playing.
In game 1 I get him down to 6 but he either counters or kills all I have and manages to kill me with a [c]Pearl Lake Ancient[/c]. I eventually ran out of gas and kept drawing land. After the game I noticed a Phoenix in the bin I had forgotten to bring back but work out it would have only got an extra two damage in so made no difference.
In Game 2 I dash out scouts to avoid his sorcery speed removal and his Fountain lands gaining life stabilise him at 17 for a while before I manage to break through with a Dragon.
I take Ross's second game of the tournament.
Game 3 I am on the draw and my opening hand is a [c]Nykthos, Shrine to Nyx[/c], Mountain, 3 drop and then 4/5 drops. I know if I get the 2 lands by turn 4 I am in good stead but if I miss even one of those I'm dead, especially if he [c]Thoughtseize[/c]s me at least once. I make a terrible decision to mull. My 6 contains 1 land so it's 5 which contains a Chained to the Rocks and 4 land. I know I can play anything I draw and can't go lower but it's a terrible hand. I resolve a Chandra on 4, which is killed as my first spell. He has a hand full of answers and I'm drawing no questions. On turn 10 I missed my first land drop as I had drawn a second Nykthos. I ended the game with 3 Nykthos in hand and my opponent on 27 life.
Ross wins a well deserved victory and it's back to grinding for me.
A good day all round, our team does fantastically, a visit to a new awesome shop, and I am now a single match win away from a bye at any Grand Prix I go to this year or next, and Dundee United get through to the Scottish Cup Final.
All that was left was a spicy haggis pudding and the short drive home.
Tags: Common Ground, Magic, PPTQ, Stirling